Beginning in the early 1960s, a unique cinematic trend was born. Critically acclaimed, older actresses began to find work in horror movies. No longer qualifying as the leading lady type in mainstream films, these veteran actresses turned to fright flicks - and discovered an entirely new audience anxious to embrace them.

Whether the horror projects were well-written thrillers, shameless exploitation, or outright splatterfests, these stormtroopers from Hollywood's golden era of the 1930s and 1940s seized the opportunity for steady work.

And what work it was! These newfound films provided them with a diverse range of juicy roles, from that of the scheming heiress, to the beleaguered victim, to that of a murderess hag.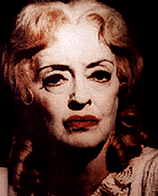 Almost no star was immune from this trend. The titles often had punctuation marks at the end of them. The plots - more often than not - featured a twist ending, a device popularized first by Diabolique (1955) and then cemented by the success of PSYCHO (1960).
And the movie that kickstarted it all? The film that ignited this cinematic subgenre we call Grand Guignol? The answer is 1962's What Ever Happened to Baby Jane?
Directed by Robert Aldrich, Baby Jane starred two of the biggest heavyweights in the industry, a pair of legendary performers who by that point had already been in the business for over three decades: Bette Davis and Joan Crawford.
(The term "Grand Guignol" refers to the popular Parisian theatre which specialized in visually realistic horror performances. Coincidentally, the original Grand Guignol theatre ran from 1897 until 1962.)
Aldrich was delighted when both women agreed to star in the film version of a novel written by Henry Farrell two years earlier. (Incidentally, several of Farrell's works would go on to see adaptations on the big and small screens, including How Awful About Allan in 1970, and The Eyes of Charles Sand in 1972, among others.)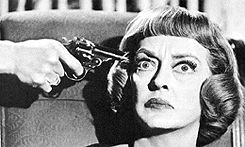 Although the two stars had dabbled in cut-rate thrillers before (Davis in Another Man's Poison in 1951, and Crawford in Sudden Fear in 1952), Baby Jane was the first true "horror" film they made.
When the project was originally announced, many people thought the leads were out of their minds. After all, they had been two of the top stars in Hollywood for decades, and had amassed between them twelve Academy Award nominations.
However, when Baby Jane was released, it turned out to be a huge financial success for all involved. Davis received yet another Oscar nomination, and so began a final phase for both in the genre. As the 1960s went on, the movies they appeared in became more and more exploitative. Although many others did similar films, Crawford and Davis are the two most closely identified with this cycle of storytelling.
By far, the most successful formula was to star two well known women in the same picture. Bette Davis took this a step further in 1964, when she made Dead Ringer. She played BOTH parts! In it, she was cast as identical twins Edith and Margaret Phillips.
Resentful of her wealth, Edith kills Margaret and takes over her identity. The twist? Margaret had killed her husband Frank, and now it is Edith who has been sentenced to be executed. Dead Ringer was a solid thriller and another success for Davis.
That same year, she and Crawford were set to make a follow-up to Baby Jane. Robert Aldrich was to direct, using another story by Henry Farrell called What Ever Happened to Cousin Charlotte?, with Davis playing the title character.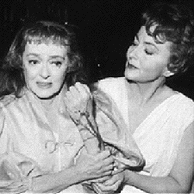 The name was changed to Hush...Hush Sweet Charlotte and Crawford was dropped from the production. Vivien Leigh was first approached to take on the part of Miriam. She refused, saying: "I could just about look at Joan Crawford's face at 7:00 in the morning, but I couldn't possibly look at Bette Davis's." Leigh was one actress who would never go on to make a movie of this type.
Olivia de Havilland got the role. She played the part to the hilt, trying to drive the character of Charlotte mad in the film. In the famous conclusion, Charlotte gets her revenge by dropping a huge flower pot from a balcony onto Miriam and her lover below.
While not as tight as Baby Jane, Charlotte featured some stellar set-ups and sequences including a gruesome beheading. Agnes Moorehead played a supporting role which won her a Best Supporting Actress Oscar nomination. She would star in her own macabre flick eight years later, 1972's Dear Dead Delilah.
De Havilland was a cultured actress known for playing sweet ladies in her films. Yet she herself had appeared in something called Lady In a Cage earlier in 1964. That film contained violent moments that got it banned in England at the time. The title was somewhat literal, for she played an invalid named Mrs. Hilyard who is stuck in a private elevator in her house while menaced by a group of young thugs.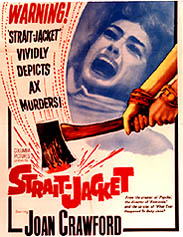 The hooligans include a woman, and are led by James Caan in his film debut. Slowly, de Havilland's character goes from expressing fear, then outrage, and finally downright savagery. The actress took the part in hopes of depicting the violence of the era, and in fact Lady In a Cage was one of the first major films to do just that.
Joan Crawford would go on to make two films for William Castle. He was known for making movies with gimmicks and they were no different. In Strait-Jacket, she played Lucy Harbor ("Lucy Harbor took an ax, gave her husband forty wacks..."), a woman who kills her husband and his lover when she finds them in bed together. Sent to a sanitarium, she is released twenty years later and returns home. Of course, a rash of ax murders begin...and guess who's the suspect?
In 1965, Crawford had a small but pivotal role in Castle's I Saw What You Did. She played a wife who is murdered by her husband. When two girls who enjoy playing pranks call the husband up at random and say the film's title phrase, he comes after them.
Crawford would make a few more fright films in the next couple of years. Among them was 1968's Berserk! about a series of killings at a circus, which she made for Hammer Films.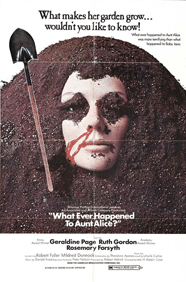 1965 saw Die! Die! My Darling! with Tallulah Bankhead. It was an excellent showcase for her. She played Mrs. Trefoile, an aging actress who is now a religious zealot. When her deceased son's ex-fiance, Pat Carroll (Stefanie Powers) decides to pay the old woman a visit, Mrs. Trefoile kidnaps her. Now newly engaged, Pat has no idea what's in store for her, as Mrs. Trefoile tries to cleanse the young victim of sin and evil.
Each time Pat tries to escape, she is subjected to all kinds of abuse. She's deprived of food, shot at, and in one scene, accidentally gets stabbed with a pair of scissors during a struggle.
Finally, as Pat's future husband is closing in on them, Mrs. Trefoile takes Pat down to her basement where she plans to sacrifice her in a makeshift altar to her dead son. There are plenty of good moments and tense scenes between Bankhead and Powers, and Bankhead's performance is mesmerizing...a tour de force.
However, not all the movies in this subgenre were as good as Baby Jane. 1966's Picture Mommy Dead starred Zsa Zsa Gabor. It was about a girl who becomes obsessed with the tragic death of her mother.
When the girl's father remarries, there is trouble between stepmom and stepdaughter. Unfortunately, Picture Mommy is undone by a bad script and proves a waste of time and effort. Sad, when you think of the endless, unmined possibilities of exploiting Zsa Zsa!
Certainly, one of the best Baby Jane-inspired films was What Ever Happened to Aunt Alice? It starred two of the finest character actresses around, Geraldine Page and Ruth Gordon...and this time, Robert Aldrich produced.
In this wonderfully dark and perverse movie, Page played Mrs. Marable, a widow left penniless by her deceased husband. She hires a series of elderly women as housekeepers and kills them in order to collect their savings. Mrs. Marable makes them dig their own graves, under the pretense of planting pine trees, then knocks them on the head with a shovel.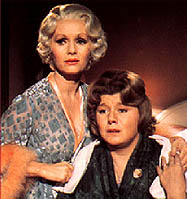 When one lady named Miss Tinsley disappears, her friend Alice (played by Gordon) applies for the job in order to find out what happened. She too gets offed in the end...but when the police close in on Mrs. Marable, the widow discovers a shocking secret that puts a bittersweet irony to her dastardly deeds. Suffice it to say, her killing spree was entirely unnecessary!
Aunt Alice features a number of great moments between Page and Gordon, a terrific gothic desert atmosphere, with wonderful scenes filmed in Arizona.
Grand Guignol cruised comfortably into the first half of the 1970s. By that point, the always feisty Shelley Winters had settled comfortably into a variety of interesting and colorful character roles. She was Bloody Mama in 1970, and appeared as a lesbian drug lord in Cleopatra Jones (1973).
What's the Matter With Helen (1971) starred Winters and Debbie Reynolds. Yet another Henry Farrell scripted film, this one is set in the 1930s.
The two were cast as widowed mothers who, after their teen sons are convicted of murder, flee to Hollywood and start a school for child actors under assumed names. As Adelle Bruckner (Reynolds) and Helen Hill (Winters) begin getting strange phone calls, they feel their past is catching up to them.
Poor Helen soon becomes unhinged with tragic results. The director Curtis Harrington would again cast Winters that same year in Who Slew Auntie Roo?, a modern take on Hansel and Gretel.
Occasionally, a male jumped on the Grand Guignol bandwagon and made movies of a similar style. Anthony Perkins got in on the act in 1970, appearing in a TV movie called How Awful About Allan. In it, Perkins is the guilt-ridden victim of a fire that killed his father and scarred his poor sister Katherine (Julie Harris).
Returning home after rehabilitation, Allan soon finds someone is trying to drive him mad. Could the unforgiving culprit be his old girlfriend...or his disfigured sister?
Two disparate - but certainly not desperate - female stars headlined a couple more efforts worthy of mention here, namely Barbara Stanwyck, Elizabeth Taylor and Lana Turner.
In the 1964 thriller Night Walker (directed by William Castle), Stanwyck plays a wealthy woman terrorized by nightmares in which she's haunted by her deceased husband.
Woe be to anyone trying to drive *Stanwyck* mad! Scripted by PSYCHO author Robert Bloch, Stanwyck has a great time in this suspenseful sleeper.
And in Night Watch (1973), Elizabeth Taylor is Ellen Wheeler, a beleaguered woman who believes she sees murders taking place in the mansion adjoining her London apartment. The problem? La Liz is recovering from a recent nervous breakdown, and it seems no one will take her outrageous claims seriously. Could it be someone is trying to drive her back into a mental asylum? Maybe her husband John (Laurence Harvey)?
Perhaps not to be undone by Davis, Crawford, Stanwyck or Taylor, the great Lana Turner appeared in the British exploitation flick Persecution (1974).
An odd horror film with a mean streak, Persecution features Turner as Carrie Masters, a domineering (and frankly, demented) mother who enjoys souring life for her timid son David (Ralph Bates). But when David decides he's had enough of his mom's evil machinations, who's going to be "persecuted" now?
Turner, looking in 1974 just as beautful and classy in middle age as ever, is a spirited trooper who injects Persecution with as much life as the dreary material is likely to get.
Although a number of these films are considered camp nowadays, there were some decidedly good horror thrillers that came out of the Grand Guignol cycle that began in 1962 and lasted approximately ten years. The leading actresses were A-tier stars from Hollywood's golden past, heavy hitters who brought a feisty professionalism to this subgenre.
Indeed, no newcomer ingenue could have replicated the veteran spunk these battle-hardened warriors of the cinema carried with them. As horror fans, we should be thankful. In many ways, Grand Guignol paved the way for other famous names to take on roles in a genre once considered undignified.
| | |
| --- | --- |
| NOTABLE GRAND GUIGNOL FILMS | YEAR |
| | |
| --- | --- |
| Berserk! | 1968 |
| Dead Ringer | 1964 |
| Dear Dead Delilah | 1972 |
| Die! Die! My Darling | 1965 |
| How Awful About Allan | 1970 |
| Hush...Hush, Sweet Charlotte | 1964 |
| I Saw What You Did | 1965 |
| Lady in a Cage | 1964 |
| The Nanny | 1965 |
| Night Walker | 1964 |
| Night Watch | 1973 |
| Persecution | 1974 |
| Picture Mommy Dead | 1966 |
| The Screaming Woman | 1972 |
| Scream Pretty Peggy | 1973 |
| Strait-Jacket | 1964 |
| Trog | 1970 |
| Two on a Guillotine | 1965 |
| What Ever Happened to Aunt Alice? | 1969 |
| What Ever Happened to Baby Jane? | 1962 |
| What's the Matter with Helen? | 1971 |
| Who Slew Auntie Roo? | 1971 |